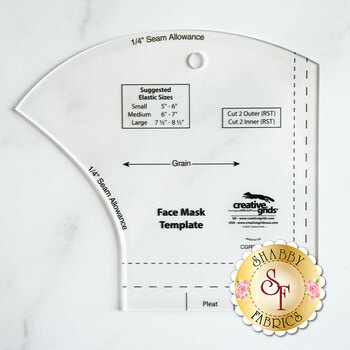 Creative Grids Face Mask Template - #CGRFACE
Face Mask Templates (3 Sizes)
Our Face Mask Templates make creating a custom face mask quick and easy! These templates provide a great starting point for making a face mask in your favorite color and design to match your personality. All you need to do is select the template that fits your size, then select your favorite solid fabric or shop Fabrics by Collection to choose a printed quilt fabric.
Our templates are designed to fit a variety of face shapes and sizes, so you can be sure that your finished mask will be comfortable to wear. Using these templates saves time and ensures that your mask will have a professional look and cover your nose and mouth completely.
So, if you're looking to create a custom face mask quickly and easily, our Face Mask Templates are the perfect solution. With their ease of use and professional results, they're a great choice for individuals, schools, organizations, and businesses.
If you find these mask templates to be helpful in your projects, then you'll love our large selection of templates ranging from specialized projects to multipurpose—everyday designs perfect for any quilt.