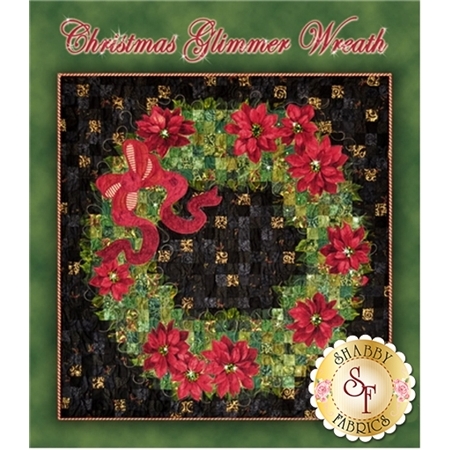 Christmas Glimmer Wreath Pattern
Christmas Glimmer is a stunning new design by Jennifer Bosworth of Shabby Fabrics! The wreath is set off by a rich black background and is detailed with gorgeous poinsettias, a rich red ribbon and bow, and over 100 hot fix rhinestones for extra sparkle! This is a wall hanging you'll want to pass down through the generations! Finished size is 45 1/2" x 45 1/2". This pattern includes all instructions.

** Please note, this is a challenging but rewarding design which takes time and patience to successfully accomplish.

Required Materials:

Scraps of various red fabrics for ribbon and bow
5 inch by width of fabric pieces of 10-12 unique green fabrics
1/3 yard each of 6-8 unique black fabrics
2 ½...
$12.00
To order 1/2 yard, enter 0.5
Christmas Glimmer is a stunning new design by Jennifer Bosworth of Shabby Fabrics! The wreath is set off by a rich black background and is detailed with gorgeous poinsettias, a rich red ribbon and bow, and over 100 hot fix rhinestones for extra sparkle! This is a wall hanging you'll want to pass down through the generations! Finished size is 45 1/2" x 45 1/2". This pattern includes all instructions.

** Please note, this is a challenging but rewarding design which takes time and patience to successfully accomplish.

Required Materials:

Scraps of various red fabrics for ribbon and bow
5 inch by width of fabric pieces of 10-12 unique green fabrics
1/3 yard each of 6-8 unique black fabrics
2 ½ yards of poinsettia fabric (Michael Miller CJ3059 Black)
½ yard of stripe or plaid fabric for binding (or ? yard for bias binding)
3 yards of backing fabric
100 or more hot-fix jewels
Fusible webbing (we prefer Heat n Bond Lite)