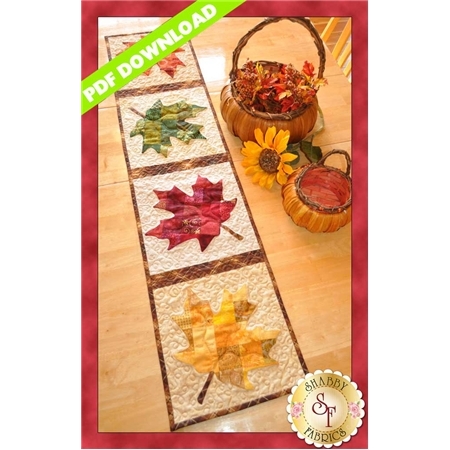 Patchwork Maple Leaf Table Runner - PDF DOWNLOAD
THIS PRODUCT IS A PDF DOWNLOAD that must be downloaded and printed by the customer. A paper copy of the pattern will not be sent to you.
Say hello to the winds of autumn with this stunning runner. Designed by Jennifer Bosworth of Shabby Fabrics, this design features patchwork - a great way to use up scraps! - and applique. Pattern includes all instructions for the 12 1/2" x 53" runner.

Required Fabrics:
Scraps or strips of 9 yellows, 9 greens, 9 reds, and 9 oranges
1/2 yard brown plaid for sashing, binding, and stems
4 - 12.5" x 12.5" cream/tan fabrics for backgrounds
18" x 58" piece for backing
Heat N' Bond Lite or another fusible appliqué product (if opting for fusible appliqué)
This product does not count toward the $75 for free shipping.
$9.50
To order 1/2 yard, enter 0.5