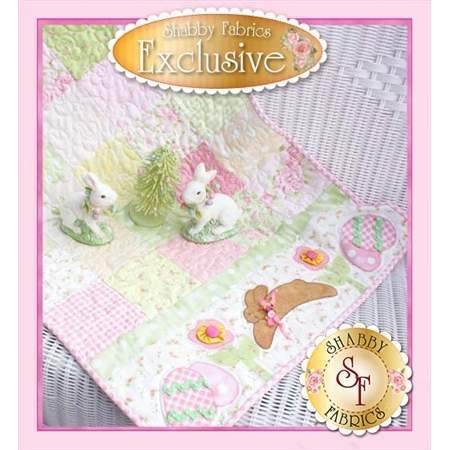 Easter Bunny Runner - Pattern
Easter Bunny Runner is a Shabby Fabrics exlusive design featuring a sweet 23" x 50" tablerunner adorned with plenty of colorful pastel eggs, flowers, bunnies and of course, lots of fun embellishments! Quick and simple fusible applique makes finishing this table runner a snap just in time for Easter. Be sure to pick up the coordinating Easter Bunny Tea Towel pattern.

Required Materials:

1 charm pack of forty 5-inch squares
? yard of cream floral print (background for appliqué)
? yard of green dot fabric for sashing
½ yard of pink gingham fabric for binding
1 ½ yards backing print
Scraps of three pink fabrics for eggs and flowers
Scraps of one green fabric for stems and leaves
Scraps...
$9.50
To order 1/2 yard, enter 0.5
Easter Bunny Runner is a Shabby Fabrics exlusive design featuring a sweet 23" x 50" tablerunner adorned with plenty of colorful pastel eggs, flowers, bunnies and of course, lots of fun embellishments! Quick and simple fusible applique makes finishing this table runner a snap just in time for Easter. Be sure to pick up the coordinating Easter Bunny Tea Towel pattern.

Required Materials:

1 charm pack of forty 5-inch squares
? yard of cream floral print (background for appliqué)
? yard of green dot fabric for sashing
½ yard of pink gingham fabric for binding
1 ½ yards backing print
Scraps of three pink fabrics for eggs and flowers
Scraps of one green fabric for stems and leaves
Scraps of one bright yellow fabric for flower centers
Scraps of light brown for bunnies
Embroidery floss in mint green, pink, and brown
6 satin pink roses
1 yard of ? inch pink grosgrain ribbon
44 small pearls
1 yard ? inch mint ric rac
4 of ¾ inch wide pink buttons
Fusible webbing (Heat n Bond Lite)