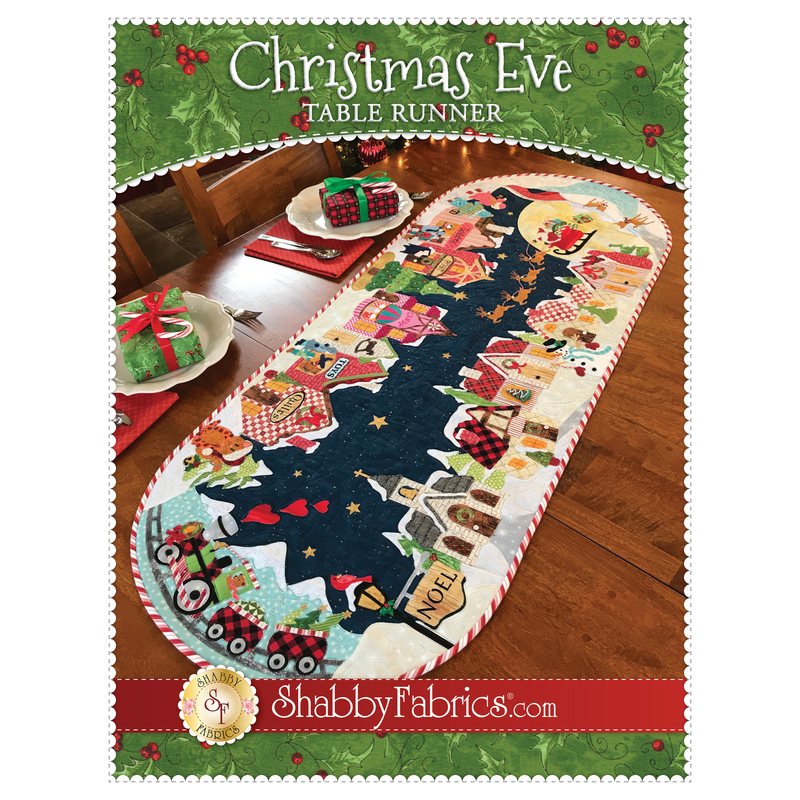 Christmas Eve Table Runner - Pattern
Designed by and exclusively available from Shabby Fabrics, The Christmas Eve Table Runner will bring all the magic and whimsy of Christmas to your home! To coordinate your entire home, you can also make the Christmas Eve Series Pillow and Wall Hanging. This Table Runner is BIG and measures approximately 20" x 50"!

Required Materials:

1½ yards blue print for background
Various colorful fabrics for appliqué
½ yard for binding
1-2/3 yards for backing
Heat n Bond Lite or similar fusible webbing
Heat...
$22.00
To order 1/2 yard, enter 0.5
Designed by and exclusively available from Shabby Fabrics, The Christmas Eve Table Runner will bring all the magic and whimsy of Christmas to your home! To coordinate your entire home, you can also make the Christmas Eve Series Pillow and Wall Hanging. This Table Runner is BIG and measures approximately 20" x 50"!

Required Materials:

1½ yards blue print for background
Various colorful fabrics for appliqué
½ yard for binding
1-2/3 yards for backing
Heat n Bond Lite or similar fusible webbing
Heat n Bond Ultrahold or similar fusible webbing
Appliqué pressing sheet (we recommend using two pressing sheets)
1 yard red and white baker's twine
4 gold jingle bells
3 red buttons ? of an inch wide
6 cream buttons ¼ inch wide
11 black buttons ¼ inch wide
1 black button ½ inch wide
24 hot-fix rhinestone jewels
Various specialty buttons (1 Christmas tree, 1 cupcake, 5 gifts, 2 holly, 1 peppermint)