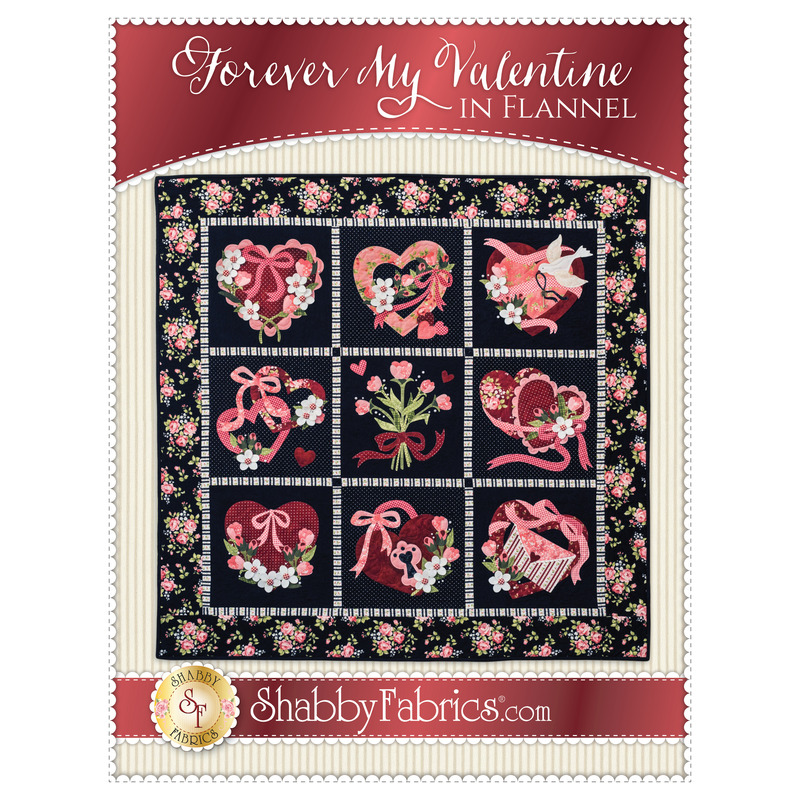 Forever My Valentine In Flannel Quilt Pattern
What better way to say "I love you" to your forever valentine than a keepsake quilt - now in gorgeous flannel! With the Forever My Valentine quilt, nine beautiful heart blocks are accented with elegant embellishments such as a brass plated key, gleaming pearl beads, wool felt and buttons. This Shabby Fabrics original design is sure to become a cherished family heirloom! Quilt finishes to approximately 59½" x 59½".

Required Materials:


2 yards black fabric for Background A, cornerstones, and binding
1 yard black dot fabric for Background B
1 ½ yards total of various red fabrics for appliqué
1 yard total of various pink fabrics...
$32.00
To order 1/2 yard, enter 0.5
What better way to say "I love you" to your forever valentine than a keepsake quilt - now in gorgeous flannel! With the Forever My Valentine quilt, nine beautiful heart blocks are accented with elegant embellishments such as a brass plated key, gleaming pearl beads, wool felt and buttons. This Shabby Fabrics original design is sure to become a cherished family heirloom! Quilt finishes to approximately 59½" x 59½".

Required Materials:


2 yards black fabric for Background A, cornerstones, and binding
1 yard black dot fabric for Background B
1 ½ yards total of various red fabrics for appliqué
1 yard total of various pink fabrics for appliqué
1 yard total of various green fabrics for appliqué
Scraps of black and cream fabrics for appliqué
? yard fabric for inner borders and sashing
1 ¾ yards fabric for outer borders
4 yards fabric for backing
1 fat quarter wool felt for dimensional daisies
19 buttons for daisy centers
50 small pearls
18 large pearls
2 ¼ inch long brass-plated key
Permanent marking pen (Micron)