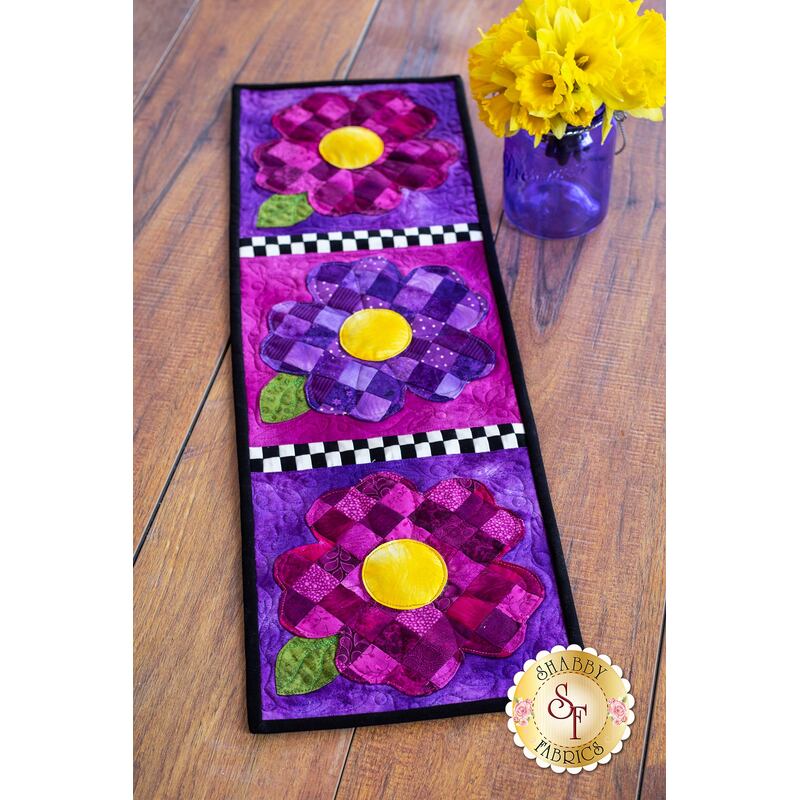 Patchwork Accent Runner - Pansies - May - Pattern
This vibrant May accent runner will evoke a bright touch of spring wherever it is displayed! Checkerboard sashing adds a unique and eye-catching touch that makes this project stand out from the rest. The Patchwork Accent Runners are designed by and only available at Shabby Fabrics! The Patchwork Accent Runner Series brings the spirit of each month to your home. These accent runners are a petite size, making them ideal for entry way tables, small dining tables, and more!

Finished runner measures approximately 9½" x 29½".

Suggested Products:
4pc Patchwork Accent Runner May Thread Set - Coordinating Metallic threads add a sparkling touch to your runner!
Size...
This vibrant May accent runner will evoke a bright touch of spring wherever it is displayed! Checkerboard sashing adds a unique and eye-catching touch that makes this project stand out from the rest. The Patchwork Accent Runners are designed by and only available at Shabby Fabrics! The Patchwork Accent Runner Series brings the spirit of each month to your home. These accent runners are a petite size, making them ideal for entry way tables, small dining tables, and more!

Finished runner measures approximately 9½" x 29½".

Suggested Products:
4pc Patchwork Accent Runner May Thread Set - Coordinating Metallic threads add a sparkling touch to your runner!
Size 90/14 Schmetz Metallic Needles - 5ct - Extremely helpful for machine stitching metallic thread
Thread Director - Very helpful for machine stitching metallic thread
Creative Grids 4½" x 8½" Quilt Ruler - Very helpful for precise measuring
Olfa Rotary Cutter - Very helpful for precision cutting


Required Materials:

Scraps of 10 various purple fabrics for patchwork
Scraps of 10 various red grape fabrics for patchwork
Scrap of green fabric for appliqué
Scrap of yellow fabric for appliqué
10 inch by 20 inch rectangle of purple fabric for background
10 inch square of red grape fabric for background
Scrap of white fabric for sashing
? yard black fabric for sashing and binding
? yard fabric for backing