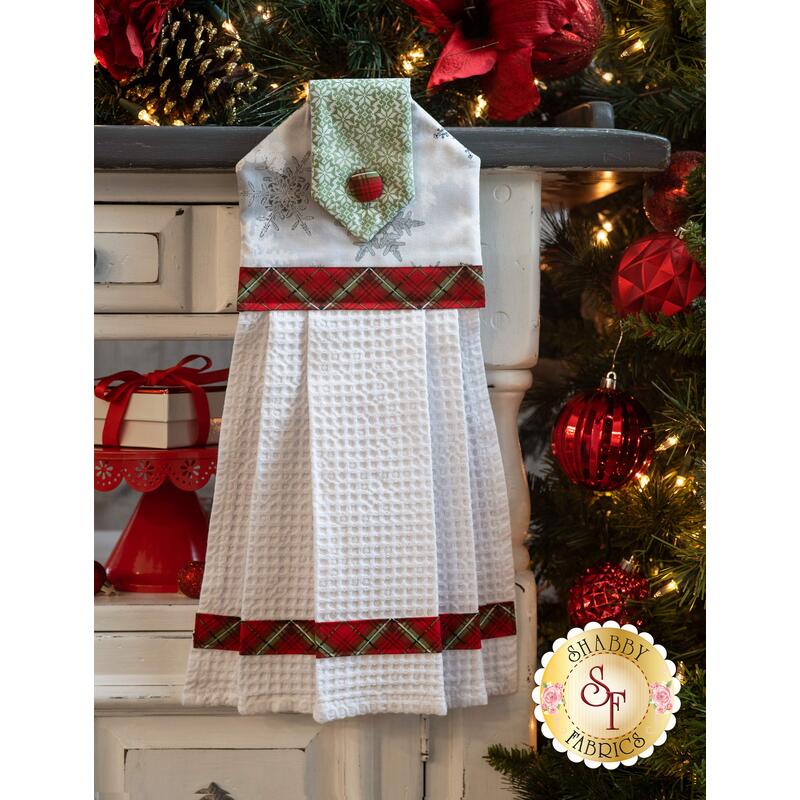 Hanging Towel Kit - Winter Wonderland - White
Create this pretty decorative towel for your kitchen using the June Tailor pre-printed batting made with the Winter Wonderland collection by P&B Textiles! They make the perfect wintertime housewarming gift!

The finished towel measures approximately 6" x 19" - one kit makes one towel. Other color combinations are available for purchase below to complete the set!

This Kit makes One Towel and Includes:
Towel
June Tailor Batting and Instructions
Accent fabrics
Coordinating fabric covered button
$19.50
Buy one, get one 50% off!
To order 1/2 yard, enter 0.5
Create this pretty decorative towel for your kitchen using the June Tailor pre-printed batting made with the Winter Wonderland collection by P&B Textiles! They make the perfect wintertime housewarming gift!

The finished towel measures approximately 6" x 19" - one kit makes one towel. Other color combinations are available for purchase below to complete the set!

This Kit makes One Towel and Includes:
Towel
June Tailor Batting and Instructions
Accent fabrics
Coordinating fabric covered button


Products Used:

Sulky 50 wt Cotton Thread #1287 French Green - High-quality thread for stitching your hanging towel

Sulky 50 wt Cotton Thread #0169 Cabernet Red - High-quality thread for stitching your hanging towel

Clover Press Perfect Hot Ruler - Helpful for measuring, marking, folding and pressing any hemlines

Clover Point 2 Point Turner - Very helpful for making crisp points in your corners

FriXion Clicker Pen - Helpful for marking cutting and sewing lines

Schmetz Chrome Jeans/Denim Needles - Perfect size for stitching through multiple layers of fabric

Kai Embroidery Scissors - Very helpful for precise trimming of fabrics

Shabby Fabrics Rectangle Ruler 2½" x 6½" - Extremely helpful for accurate cutting of fabrics for piecing

Clover Mini Wonder Clips - Great for holding your toweling in place while stitching

Clover Flower Head Pins - Extremely useful for pinning fabrics while machine stitching

Clover Patchwork Pins - Helpful for precise pinning when sewing

Clover Magnetic Pin Caddy - Very helpful for keeping your pins organized

Wool Pressing Mat - 14" x 14" - Great portable pressing surface

Panasonic 360° Freestyle Cordless Iron - Amazing for precise pressing

Clover Seam Ripper - Very helpful for opening buttonholes or any seam ripping needs