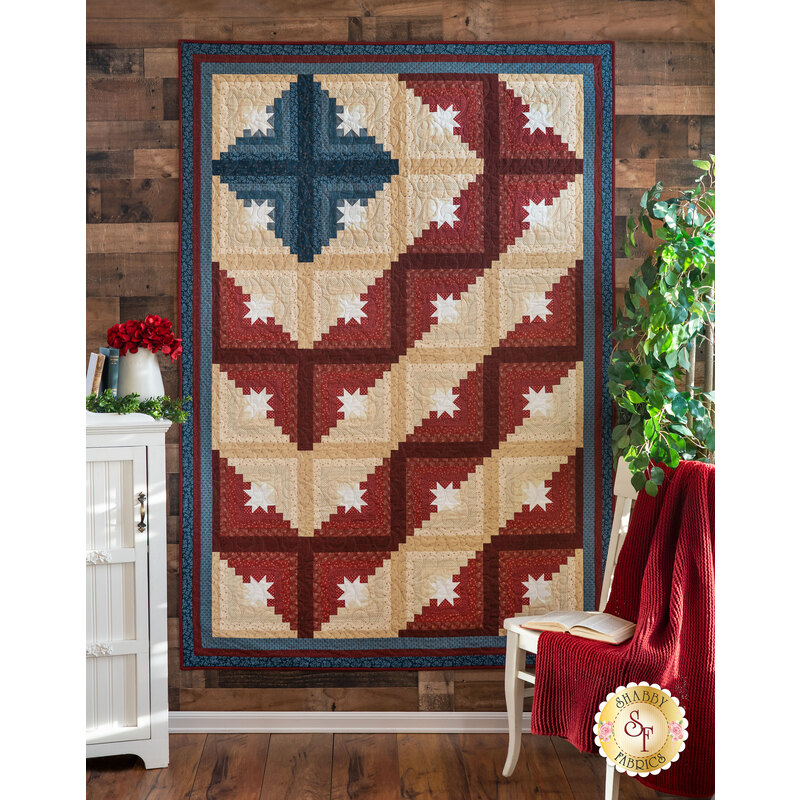 Log Cabin Americana Quilt Kit - Bess' Flower Garden
Show your patriotism with this beautiful twist on the classic barn style log cabin design! This Americana quilt is designed by Kathy Kuryla and is made with the rich tonal red, cream and blue prints from the Bess' Flower Garden collection by Marcus Fabrics. The stunning stars and stripes in this 'flag' quilt will look great in your home year-round!

This is a wonderful example of a Quilt of Valor®, which represents a "thank you for your service and sacrifice in serving our nation." This quilt makes a great gift for Service Members and Veterans who have been touched by war. Quilts of Valor® reflect the best possible workmanship and use of quality materials.

This quilt finishes to approximately 58" x 82".


This Kit Includes:
Pattern
All Fabrics for top, including borders and binding.

Backing is not included - 5 yards required. Look through our Patriotic fabrics HERE and find the perfect fabric for your backing!

Products Used:

Creative Grids 12½" Square Ruler - Great for squaring up blocks.

Creative Grids 2½" x 24½" Ruler - Perfect for cutting fabric strips.

Creative Grids 6-1/2" x 12-1/2" Ruler - Great for quick, accurate fabric cuts.

Clover Flower Head Pins - Very helpful for pinning fabrics when machine stitching.

Clover Patchwork Pins - Great for pinning fabrics when piecing.

Clover Magnetic Pin Caddy - Very useful for storing your pins securely.

Olfa Splash Rotary Cutter - Perfect for quickly and accurately cutting fabrics.

Wool Pressing Mat - Extremely useful when pressing fabrics.

Frixion Clicker Pen - Great for marking cutting and sewing lines.

Panasonic 360° Freestyle Cordless Iron - Perfect for portable pressing.
Reg.
$148.50
Sale

$118.80
$148.50
To order 1/2 yard, enter 0.5