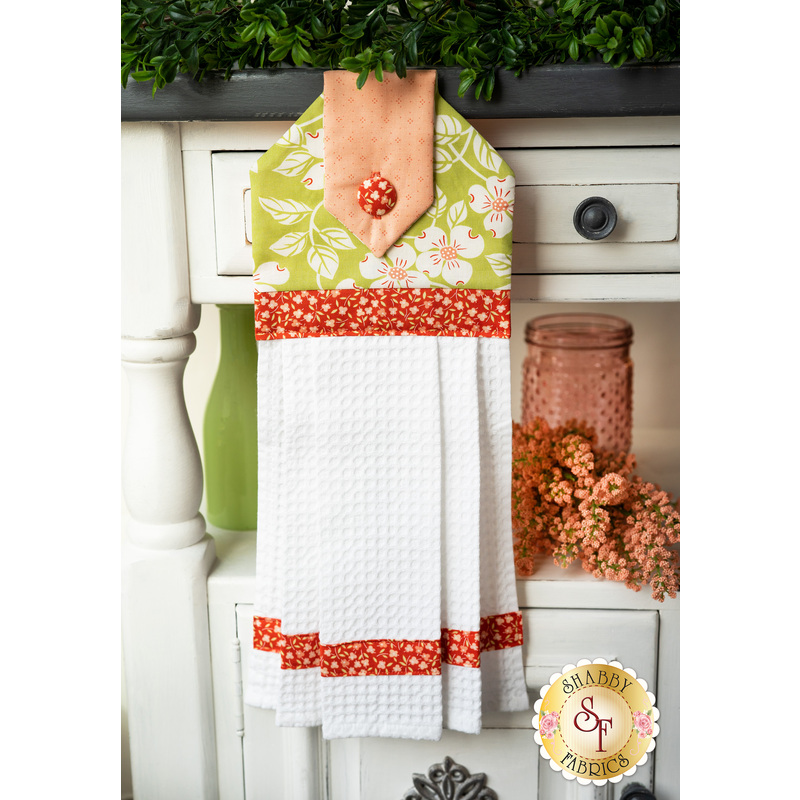 Hanging Towel Kit - Strawberries & Rhubarb - Green
Video demonstration project. Follow along with Jen for more detailed instructions in our "UPDATED June Tailor Hanging Towel Tutorial" YouTube Video!
Create this lovely decorative towel for your home using the June Tailor pre-printed batting made with the Strawberries & Rhubarb fabric collection by Moda Fabrics. The fabrics used are filled with beautiful holiday motifs that are perfect for summer! Make it for yourself or give it as a gift!
The finished towel measures approximately 6" x 19".

Other styles are available for purchase below to complete the set!

This Kit makes One Towel and Includes:
Towel
June Tailor Batting and Instructions
Accent fabrics
Coordinating fabric covered button
Products Used:

Clover Press Perfect Hot Ruler - Helpful for measuring, marking, folding, and pressing any hemlines

Clover Point 2 Point Turner - Very helpful for making crisp points in your corners

FriXion Clicker Pen - Helpful for marking cutting and sewing lines

Schmetz Chrome Jeans/Denim Needles - Perfect size for stitching through multiple layers of fabric

Kai Embroidery Scissors - Very helpful for precise trimming of fabrics

Shabby Fabrics Rectangle Ruler 2½" x 6½" - Extremely helpful for accurate cutting of fabrics for piecing

Clover Mini Wonder Clips - Great for holding your toweling in place while stitching

Clover Flower Head Pins - Extremely helpful for pinning fabrics while machine stitching.

Clover Patchwork Pins - Helpful for precise pinning when sewing

Clover Magnetic Pin Caddy - Very helpful for keeping your pins organized

Wool Pressing Mat - 14" x 14" - Great portable pressing surface

Panasonic 360° Freestyle Cordless Iron - Amazing for precise pressing

Clover Seam Ripper - Very helpful for opening buttonholes or any seam ripping needs
$19.50
To order 1/2 yard, enter 0.5