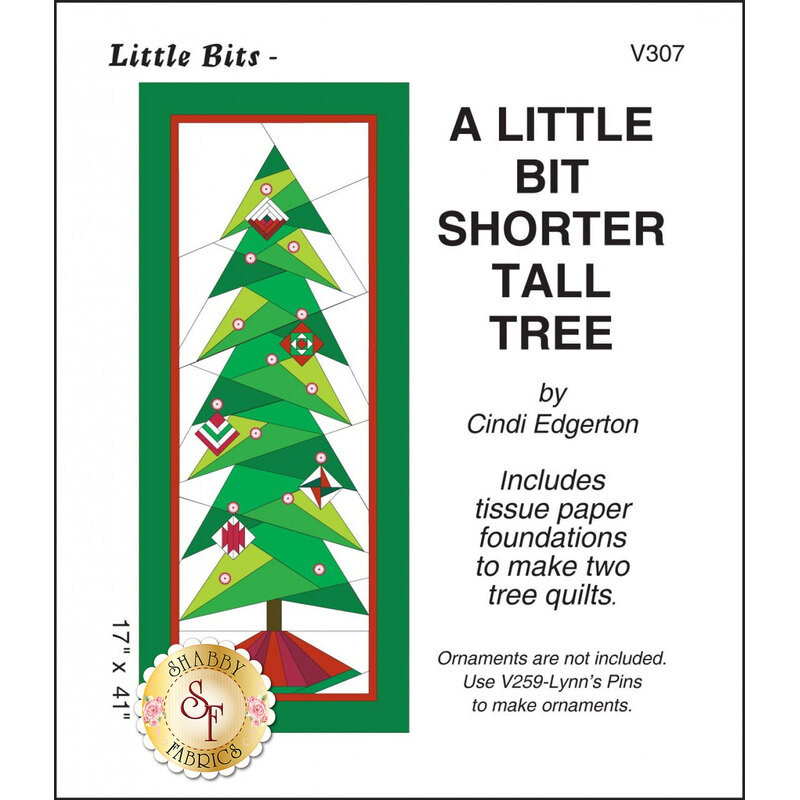 A Little Bit Shorter Tall Tree Pattern with Tissue Paper Foundations
Looking for a new holiday quilting project? The "A Little Bit Shorter Tall Tree" Pattern by Cindi Edgerton includes instructions and 2 full sheets of Tissue Paper Foundations to make two trees! Decorate the tree with buttons and your favorite ornaments (not included)! Finished project measures approximately 17" x 41".

Fabric requirements for one tree:

GR 1 (dark) 1/2 yard
GR 2 (lime) 1/4 yard
GR 3 (light) 1/4 yard
GR 4 (medium) 1/4 yard
WH 1 (print) 1/3 yard
WH 2 (white) 1/4 yard
WH 3 (cream) 1/4 yard
R (red border) 1/8 yard
R (assorted reds for tree skirt) 7 pieces cut 2 1/2 inches by 6 inches
B (brown) scrap for tree trunk
Binding 1/3 yard

Not sure how to do foundation paper piecing? Follow along with Jen and learn how easy and fun this can be with the right tools and techniques.


$6.00
To order 1/2 yard, enter 0.5